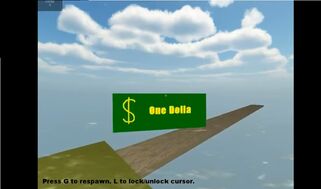 Definition
[
]
A "dolla" is a purposely misspelled version of the word "dollar". It is a floating, rotating green rectangle with the word "dolla" and "$$", both painted in yellow, appearing once on each side of the rectangle, however, it is most visible on the front and the back side of the object. It's value is generally equal to that of a real life US$1,00, though it's possible to find one that makes for US$2,00. Upon touching a dolla, it disappears. It also plays a hilarious sound, which it's that of an artificial intelligence saying "Holla holla, get dolla!". This phrase makes a reference to a YouTube video called "Moonbase Alpha provides a realistic simulation of life on a natural satellite", made by moldef. When saying the word "dolla", some egg-like fans might immediately remember The Fantastic Game, because it's fundamental to complete the game, and because it's an iconic and remarkable feature.
Dollas and The Fantastic Game
[
]
In The Fantastic Game, dollas are essential to make progress in such game. It's currently impossible to make through the game without collecting dollas. They are scattered around many places in the game, the majority of those are hidden in pretty obvious places, just so the player won't suffer a lot from finding them. With dollas, you can open up doors and another normally inaccessible areas, in order to make progress. You don't need to collect all of them to complete the game. More precisely, from all of the 16 existing dollaz in the game, you'll need to collect 15 of them.